Click on photos for full size.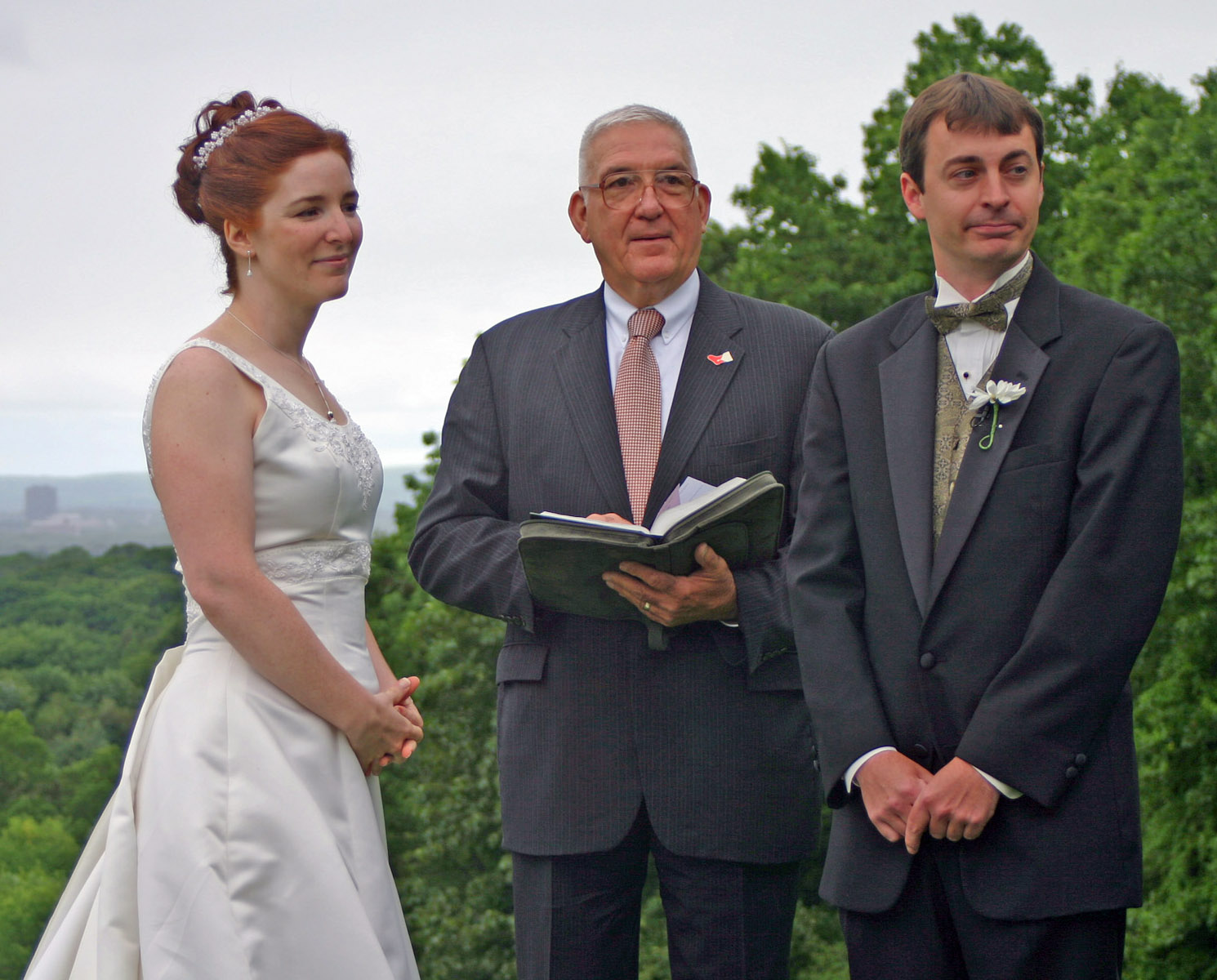 Hilltop wedding with Debbie's father officiating
The highlight of our year was the wedding of our son Mark to Debbie Morris in early June. They were married on the top of the hill in Wickham Park in East Hartford overlooking Hartford and the reception was held right there at the Pavilion. The weather wasn't perfect, but after two days of soaking rain, we were happy to settle for just cloudy skies. Everything went smoothly and everyone seemed to enjoy the day.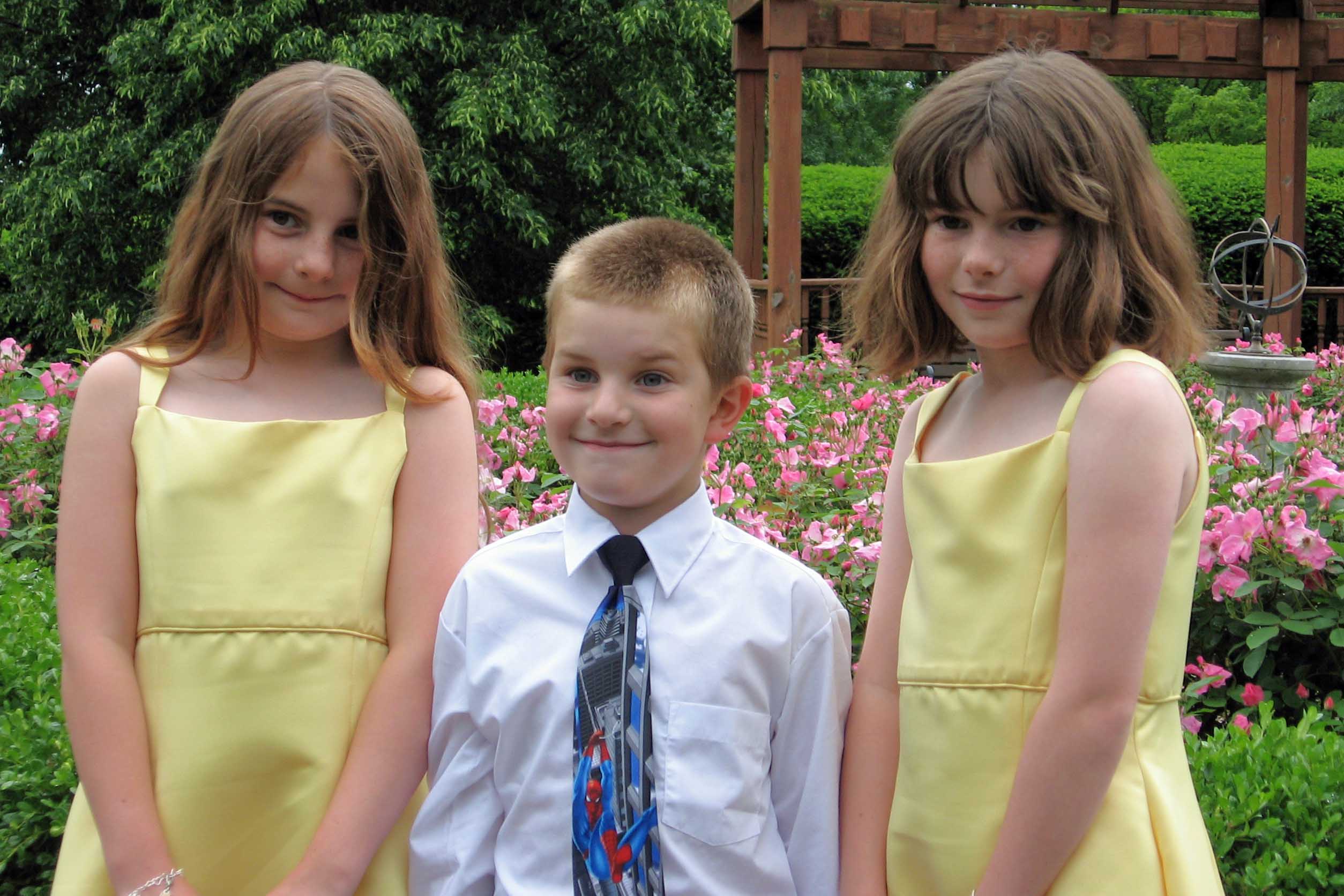 Flower girls & ring bearer
Debbie is a librarian in East Hartford responsible for the children's section and programs. They honeymooned in California, visiting and hiking Sequoia and Yosemite National Parks. They're living in Farmington for now and looking for a house.
For their first Christmas card they produced The Newlywed Chronicles - a humorous review of their first year together.The card is on our website.
Donna's family doing well with the girls in fourth and fifth grades and the little guy in first grade. Jan does some sitting for them when they get in a bind and they are close enough that we get together pretty often. Annie at ten is outgoing and loves sports. Katie at nine has fallen in love with horses and is riding. Adam at six is into boy things - Power Rangers and Rescue Heroes.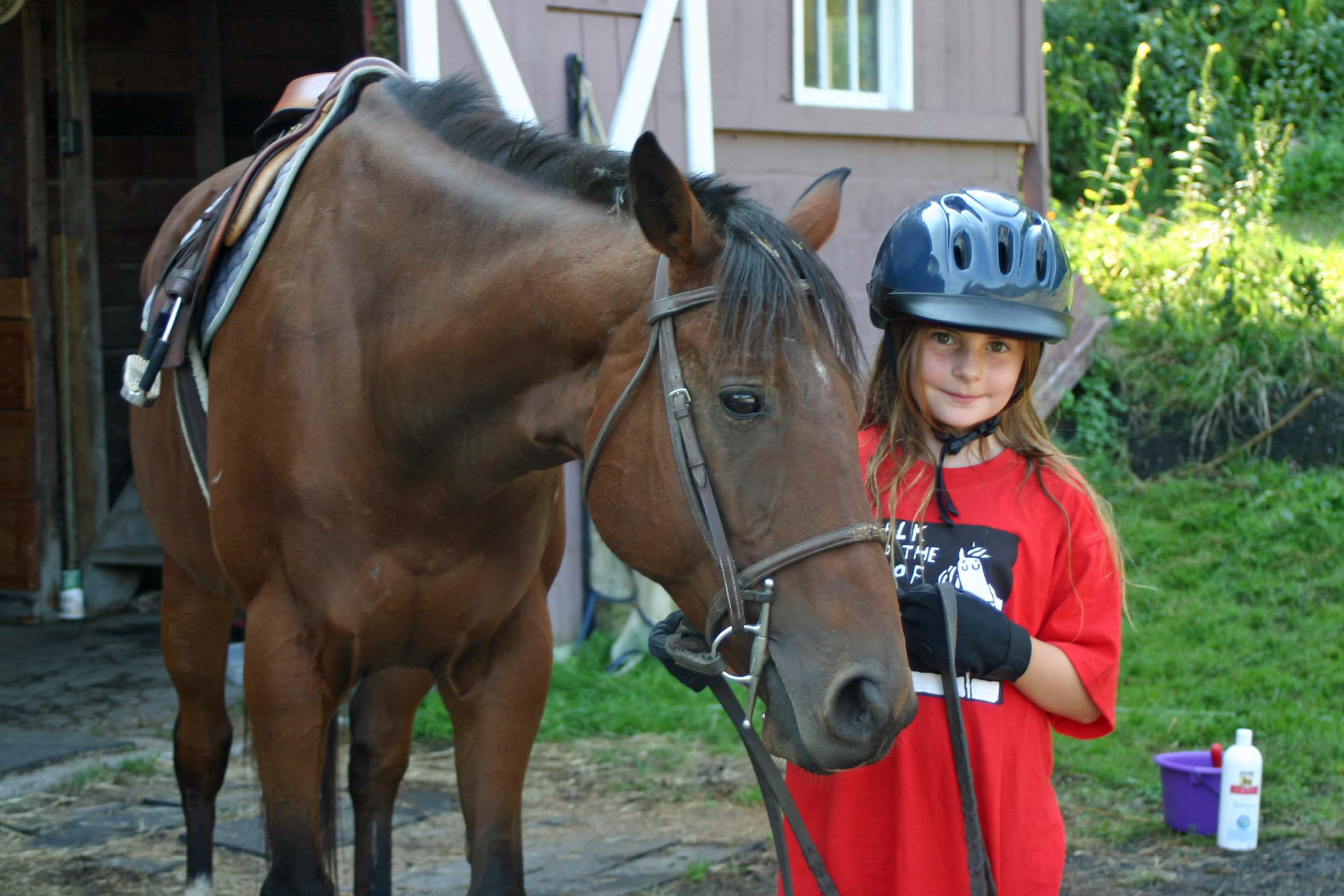 A girl her horse
Donna continues to work as a teacher in the prison system and has moved into the chauffeuring stage of motherhood. She's also become a girl scout leader for the girls. Her husband Mark, a cameraman for our ABC affiliate, is setting up his own video editing business and a program he developed with his partner will be airing soon on the New Hampshire PBS station. We're all hopeful it will then be picked up in other states.
Jan and I finally had our often delayed vacation in Italy. In September we took a tour that covered two-thirds of the country, so although it was a bit rushed we got a taste of many areas. I thoroughly enjoyed it with it's combination of history, culture, art and landscape. Jan was not quite so sure as the airline lost our luggage for four days and the pace was hectic at times. The memories are softening with time for her and her retelling of our adventure has regaled family and friends.
Jan's sister Nora had open heart surgery in January for a valve problem and recuperated with us in late Winter. She's doing fine now and Jan supported her through the operation and recovery. Otherwise Jan's time is spent between the grandchildren, lunch with friends, books and scrap booking.
Mom is still hanging in at 94. She has dementia, and is a bit frail, but still knows what's going on. She is reluctantly using a walker now and has moved to a level of higher care. She's in the same assisted living facility on Cape Cod and my sister Linda sees her regularly.
Jon's Journey
This was my first year without having the magazine to publish so I had extra time on my hands. With Mark gone I've had to pick up house and yard maintenance again - I was spoiled for many years, but the exercise is good for me.
I've read more, hiked regularly, attended more workshops and events plus gotten involved with a couple of smaller projects for the holistic community. Currently putting together our third holistic health fair for our town. I anticipate another big project, but nothing has come along yet that has ignited my juices.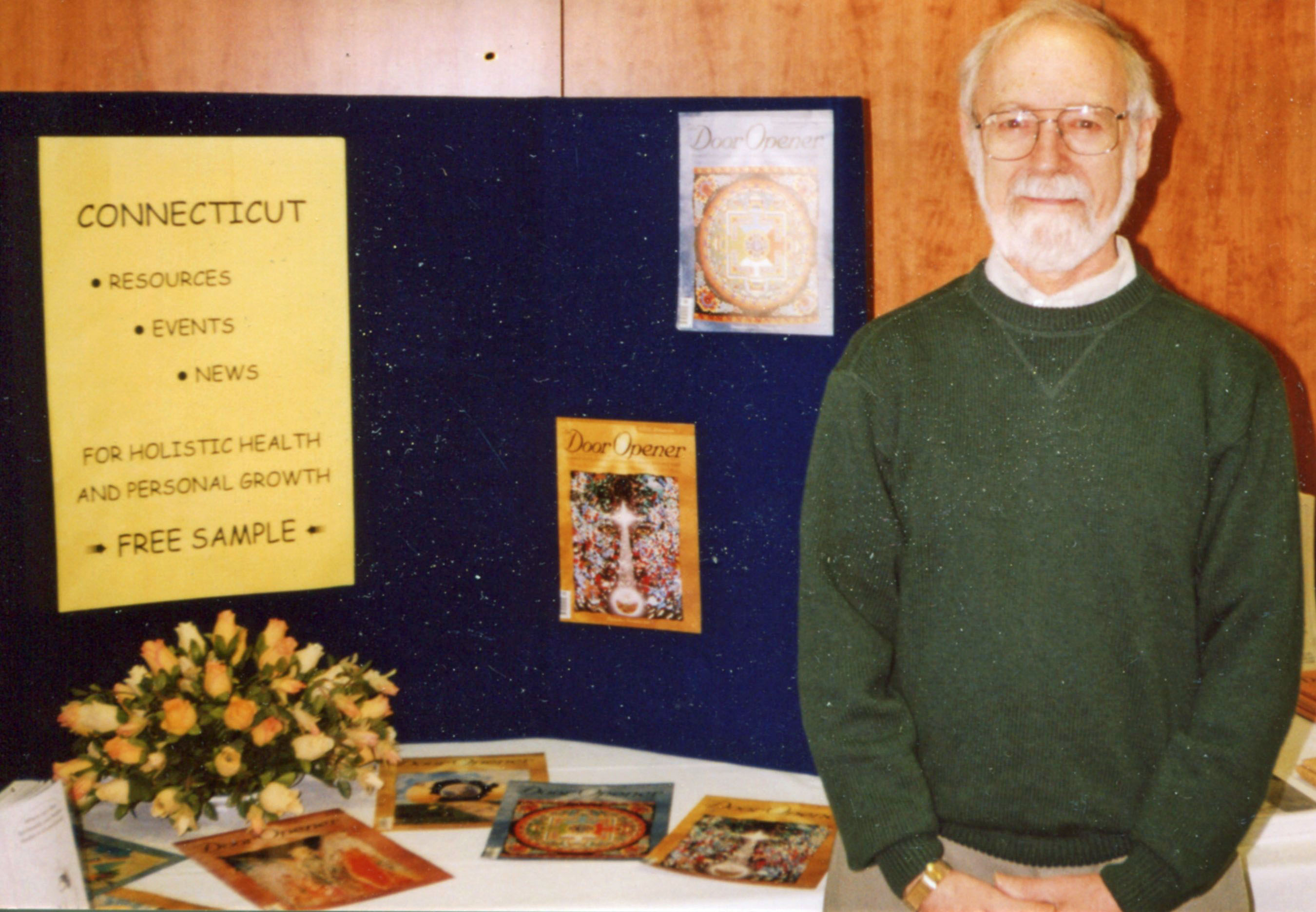 Pushing magazines at a fair
Jon & Jan   
| | | | | | |
| --- | --- | --- | --- | --- | --- |
| | | | | | |
| Adam | Annie | Katie | Donna & Mark | Mark & Debbie | Jon & Jan |