Click on photos to see larger size.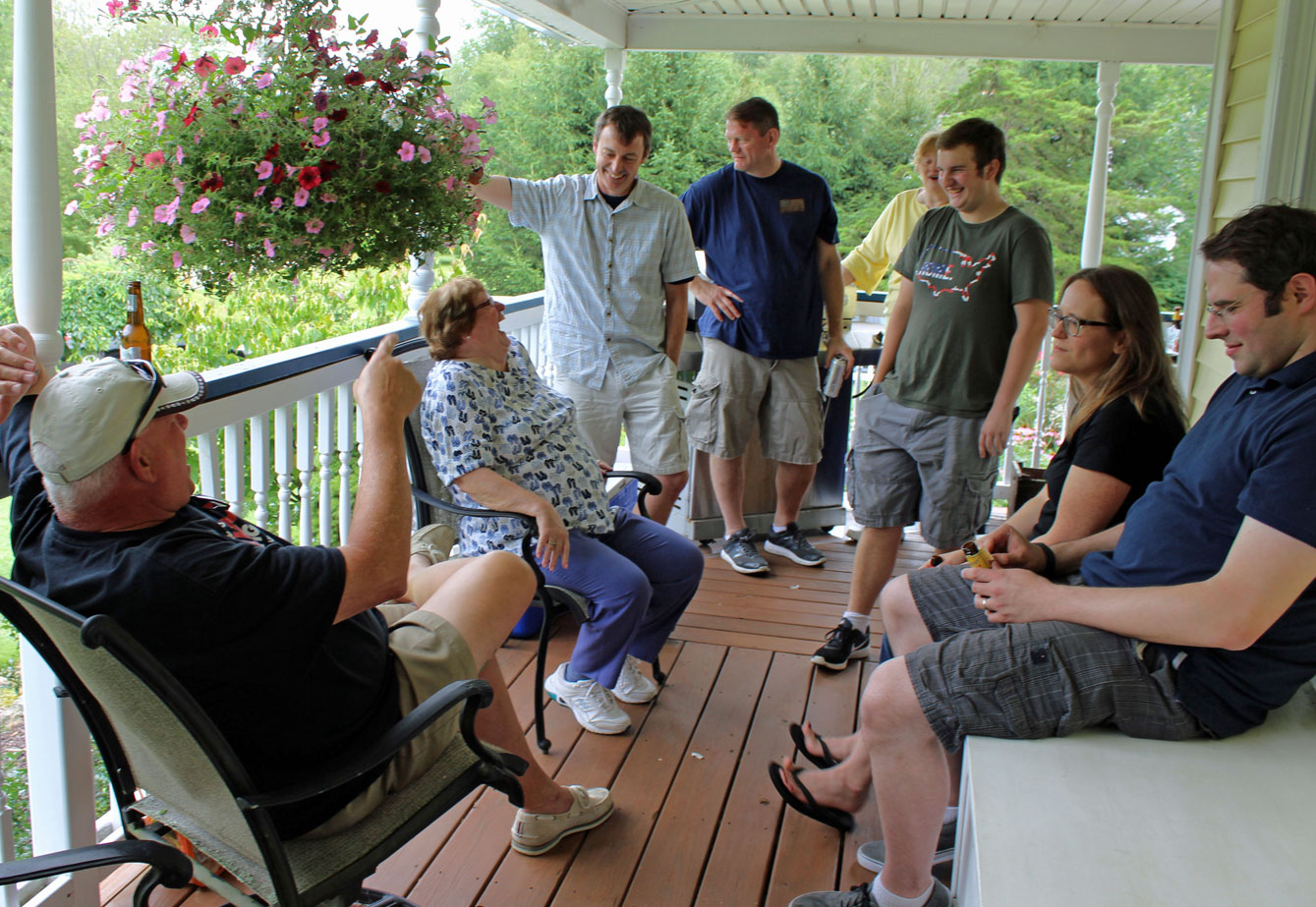 Summer reunion with the Jersey cousins
2017 was a quiet year with no family health issues or big trips. Even the weather was more or less average (except for our current early winter cold snap). A quiet year before the big changes and transitions coming in 2018.
Our daughter Donna retired this month after 25 years working as a Special Education teacher in the Connecticut Prison System. It was a good job in a low security prison while her children were growing up. But with Connecticut's current financial problems staff was been reduced and she had to work in a more dangerous environment. She could have retired after 20 years, but stayed while the girls finished college. Now its time to move on.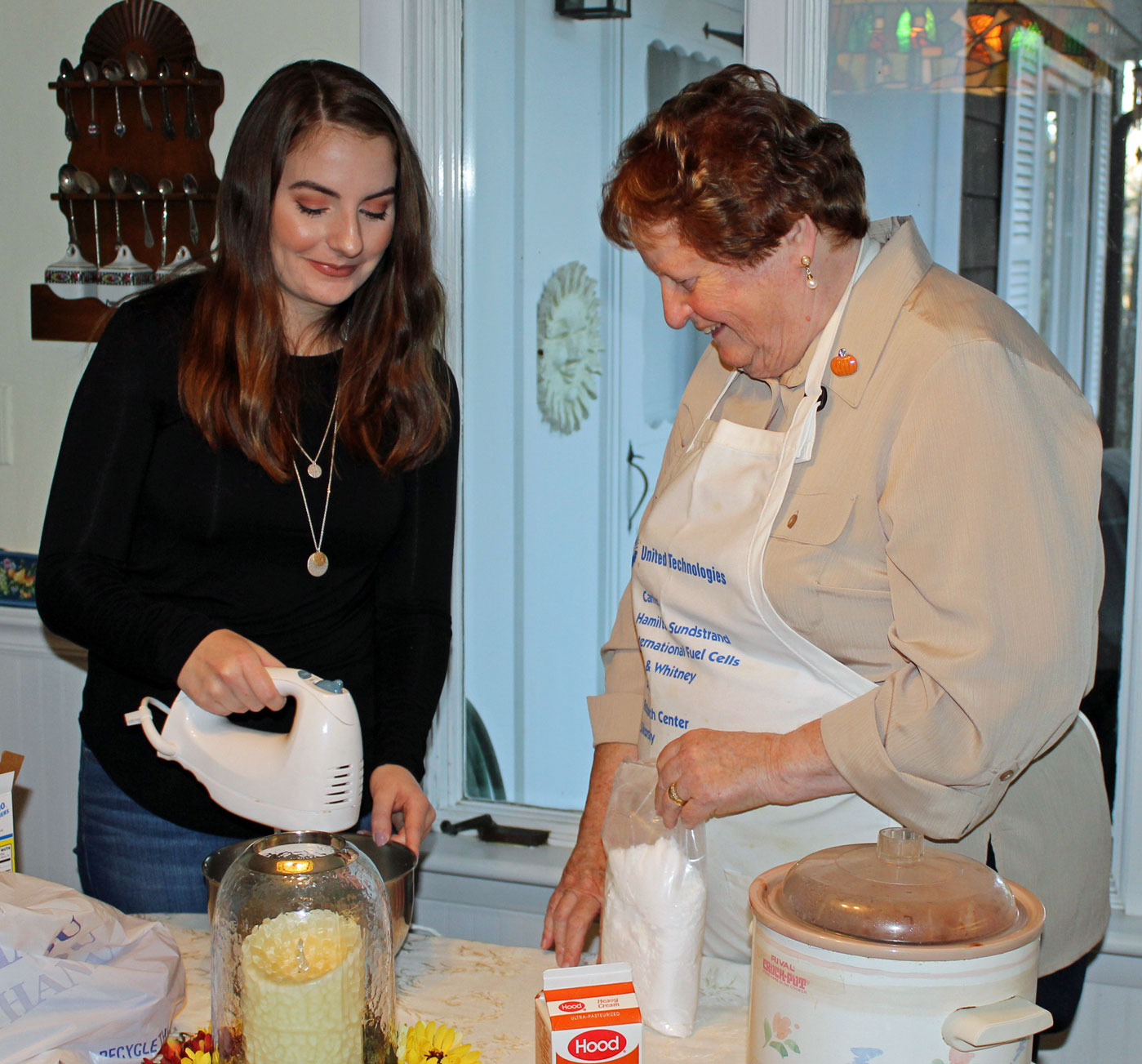 Passing family secrets to Katie
With retirement she and husband Mark are preparing for a move to Tennessee away from New England winters and taxes. They'll sell the house and get things ready this Spring and move in June after Adam graduates from high school. He has enrolled at Middle Tennessee State University to study engineering.
Jan's cousin Peter Lukach brought his whole family to a reunion at Donna's last Summer. Our families are small so nice to get everyone together occasionally.
Oldest granddaughter Annie graduates in May from the University of Connecticut with a degree in Mechanical Engineering. She is likely to remain in the state as her boyfriend of two years lives here and there is a demand for engineers.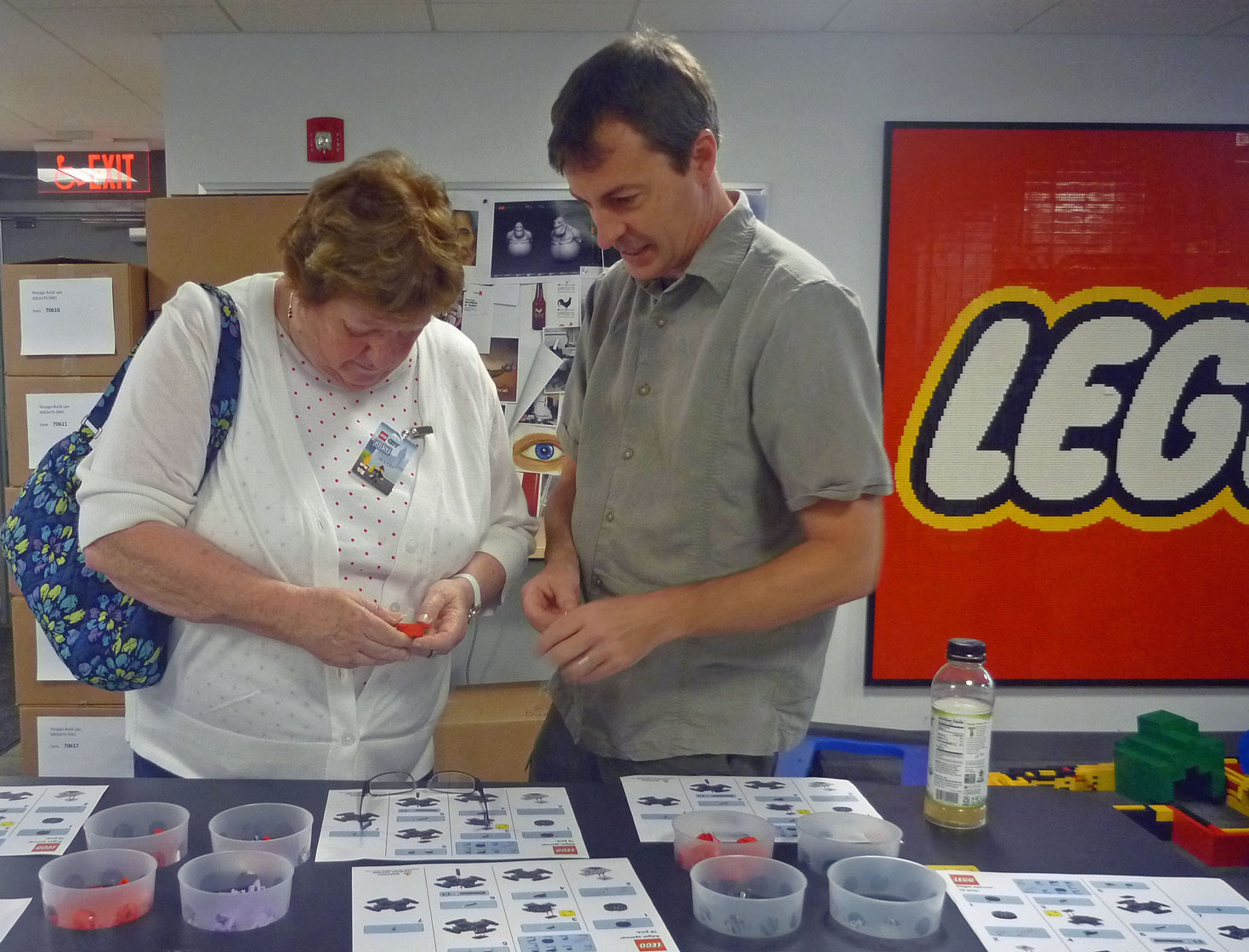 Janie learns to build a Lego spinner
Katie will graduate from Appalachian State University in Boone, NC next December with a degree in Insurance. She had an internship this year at XL Catlin in Hartford and will have another this summer with Traveler's Insurance in Knoxville, TN. She has her future carefully mapped out and so far is on course.
Our son Mark survived a layoff at Lego this fall and had another interesting year working at the 40th anniversary Star Wars convention in Florida, followed by vacation time for he and his wife Debbie in Alabama and Georgia - an area of the country they hadn't yet explored. Each Christmas their card chronicles their year and is on our website.
Jan is still doing scrap booking and has been taking a weekly exercise class. Her sister Nora volunteers at an area Senior Center so they take the class together making sure the other doesn't miss often.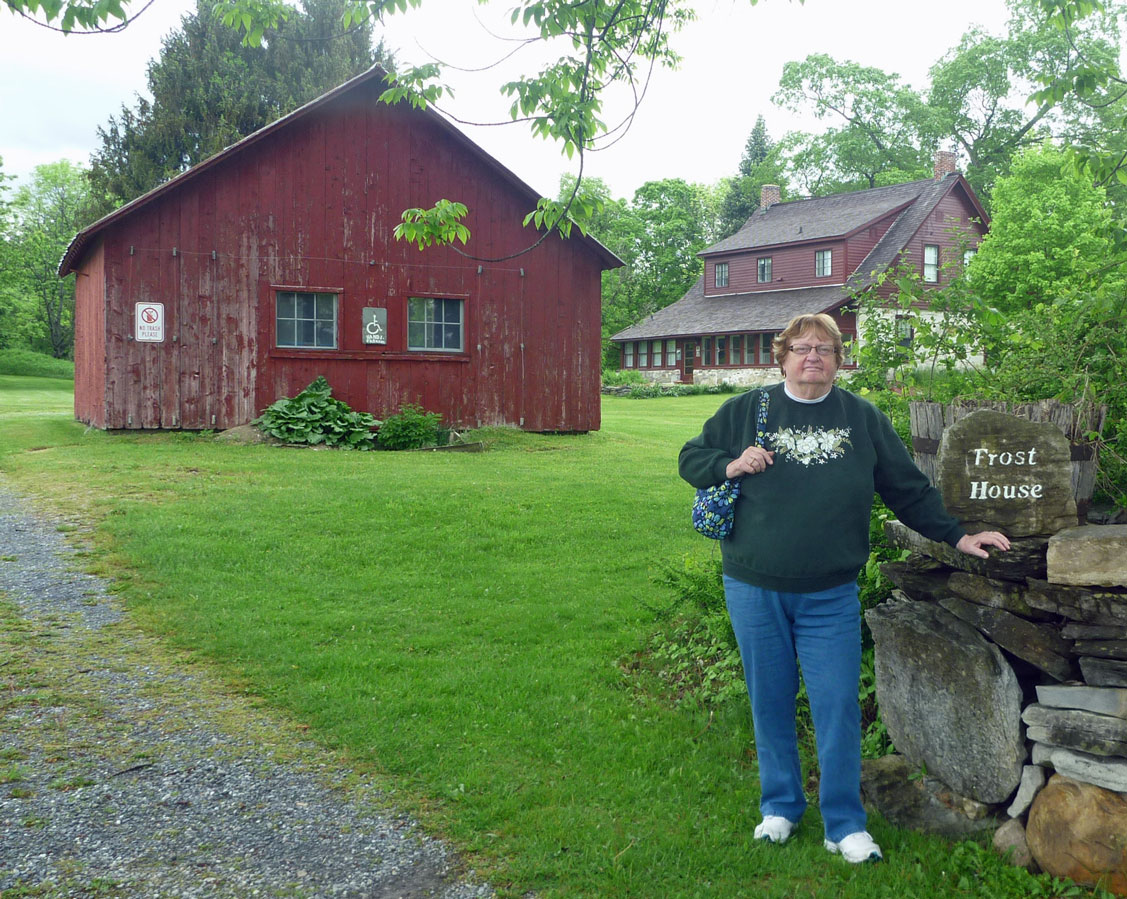 Visiting Robert Frost's house in Vermont
Only a couple of short vacations around New England this year including a loop around Vermont last Spring and a nice trip to the White Mountains of New Hampshire this fall with Mark R and Debbie to enjoy the foliage.
I went to my 60th high school reunion in New Jersey in late September. Out of a class of almost 200 60 have passed and only 35 made the dinner. While in New Jersey I did a little genealogy and met with Anne Shay as they were visiting relatives.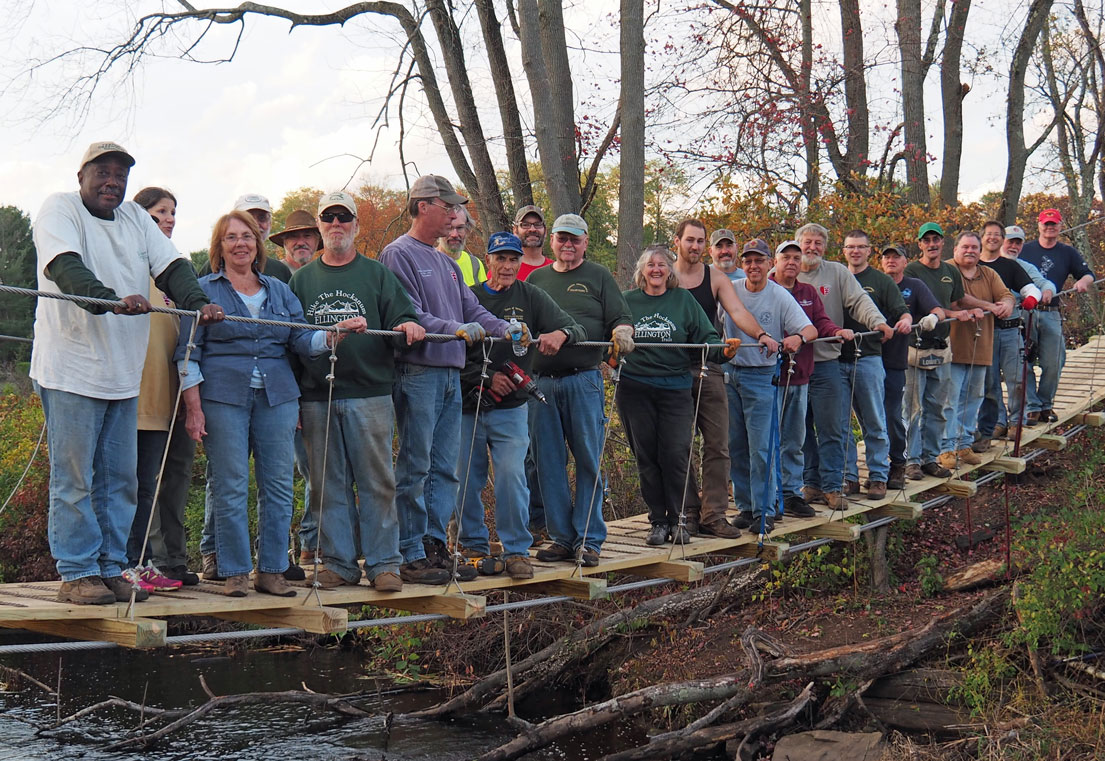 Suspended bridge crew
Much of my time is being spent now working with town organizations, including facilitating a group of 13 local nonprofits. I enjoy digging into local history and am helping to get a couple of books published with the local historical society.
One of the more interesting projects I helped with this year was the building of a Suspended Bridge to connect two trails across a river. Think Indiana Jones. We spent many Saturdays from July to November on the project. Male bonding - old guys with tools and power toys.
My scaled back holistic community activities include maintaining my Conscious CT website, hosting a breakfast each month, and working with the Alliance for Holistic Living, an organization that provides free monthly education programs. Got away again in June to Saratoga Springs, NY for the national Dowser's Conference.
We had the whole family here for a bittersweet Christmas as it is likely the last year we'll all be together. But we're grateful we had the opportunity to watch the grandchildren grow and share their childhoods.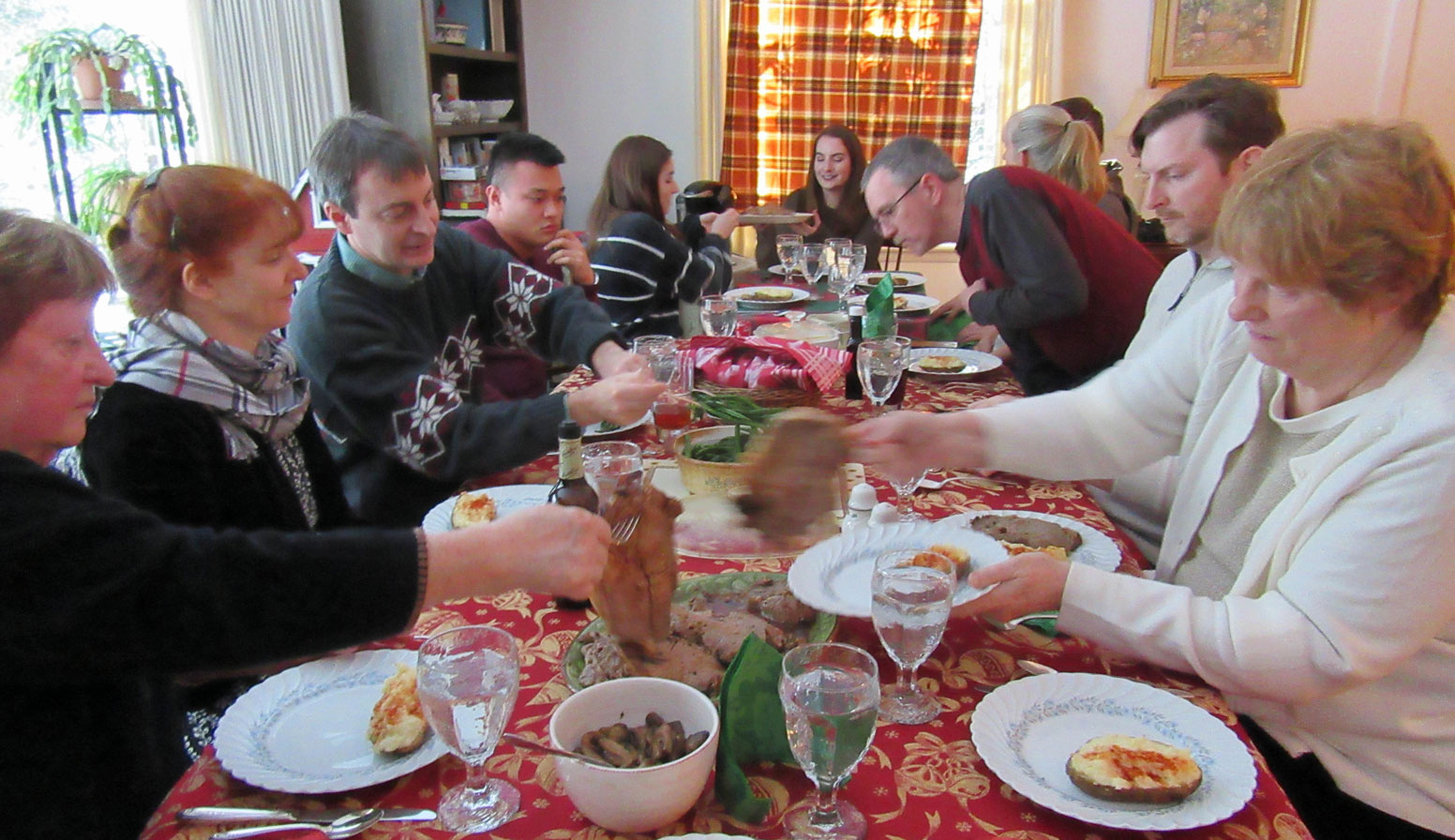 All together for Christmas dinner
You can reach us at [email protected]. We'd love to hear from you.
Jon & Jan   
| | | | | | |
| --- | --- | --- | --- | --- | --- |
| | | | | | |
| Adam | Annie | Katie | Donna & Mark | Mark & Debbie | Jon & Jan |