Click on photos to see larger size.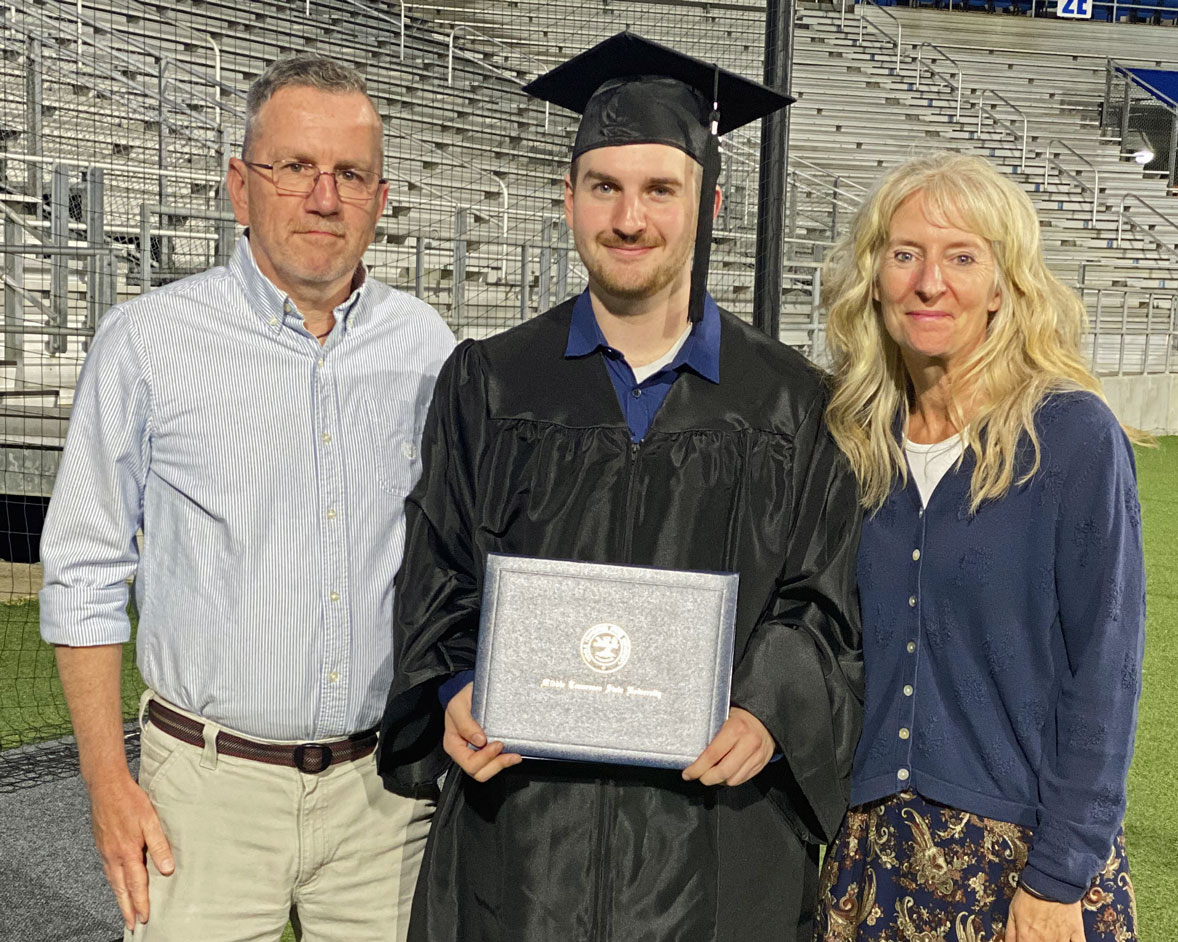 Adam graduated from MTSU in May.
Another engineer in the family
We have a few good things to share this year as we (pretend to) emerge from Covid. Connecticut escaped the bad weather that much of the country experienced. Something of a drought in the Summer, but overall we had average rainfall and no hurricanes.
In May our grandson Adam graduated from Middle Tennessee State U. with a degree in Megatronics, a combination of mechanical and electrical engineering plus robotics. He found a job in CT where his sisters have been employed for several years.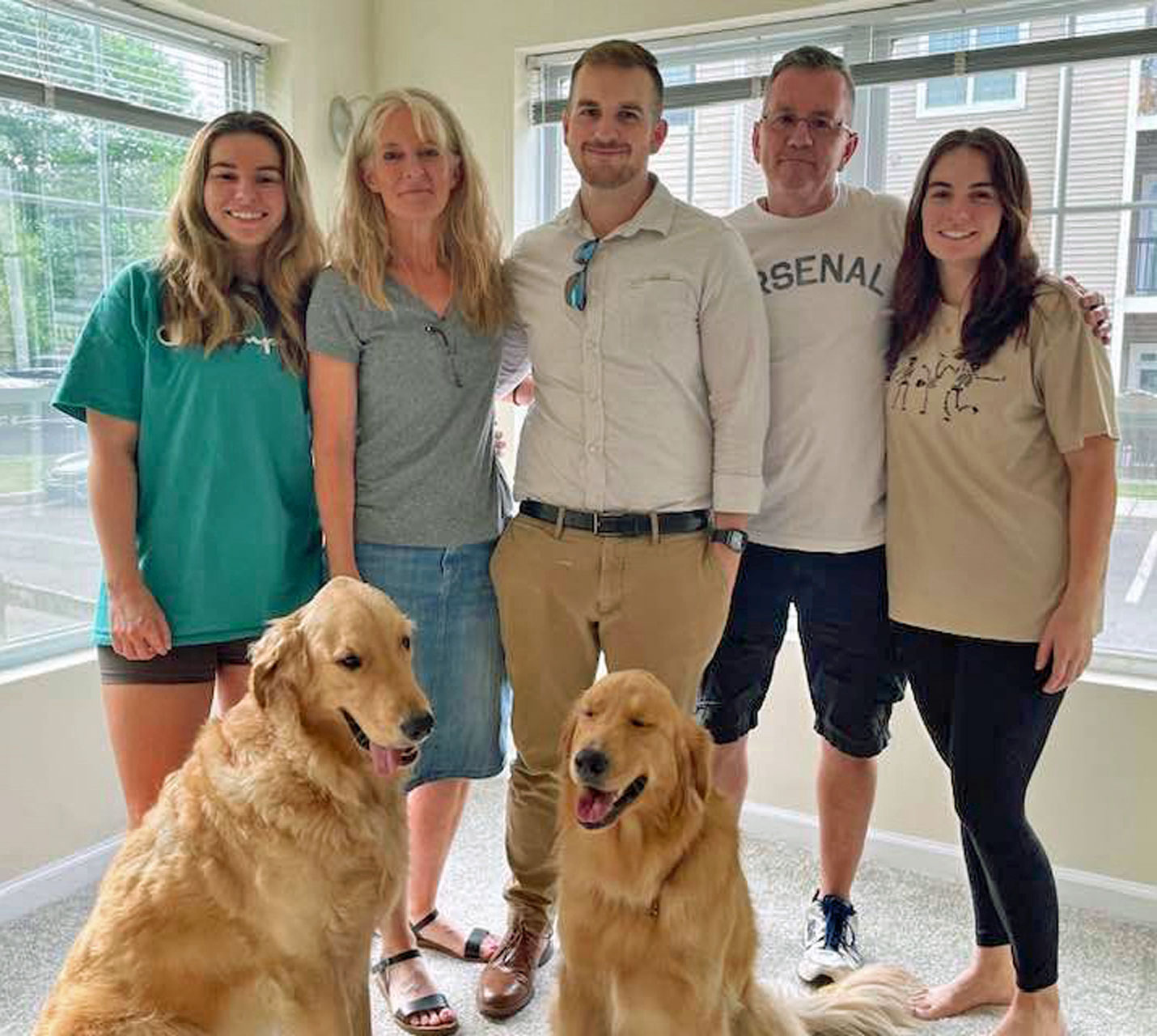 Donna & Mark C. arrived in July - with dogs
With all three of their children out of college and working in Connecticut Mark & Donna put their Tennessee house on the market. It sold quickly for a good price, and they moved back here in July. They are having a house built in Vernon . . . but the effects of Covid linger, the price is high and progress very, very slow. It probably won't be ready until Spring.
Meanwhile the family are all living in three apartments in the same complex in Manchester - the five of them plus two Golden Retrievers and a kitten. Donna is working with young children with mental health issues in the South Windsor school system as well as teaching English As A Second Language (ESL) in an adult ed class. And they both spend a lot of time walking the dogs.
With everyone nearby we have enjoyed more family events. Our son Mark and daughter-in-law Debbie hosted monthly picnics this summer bringing together both sides of his family. Lots of games and good food.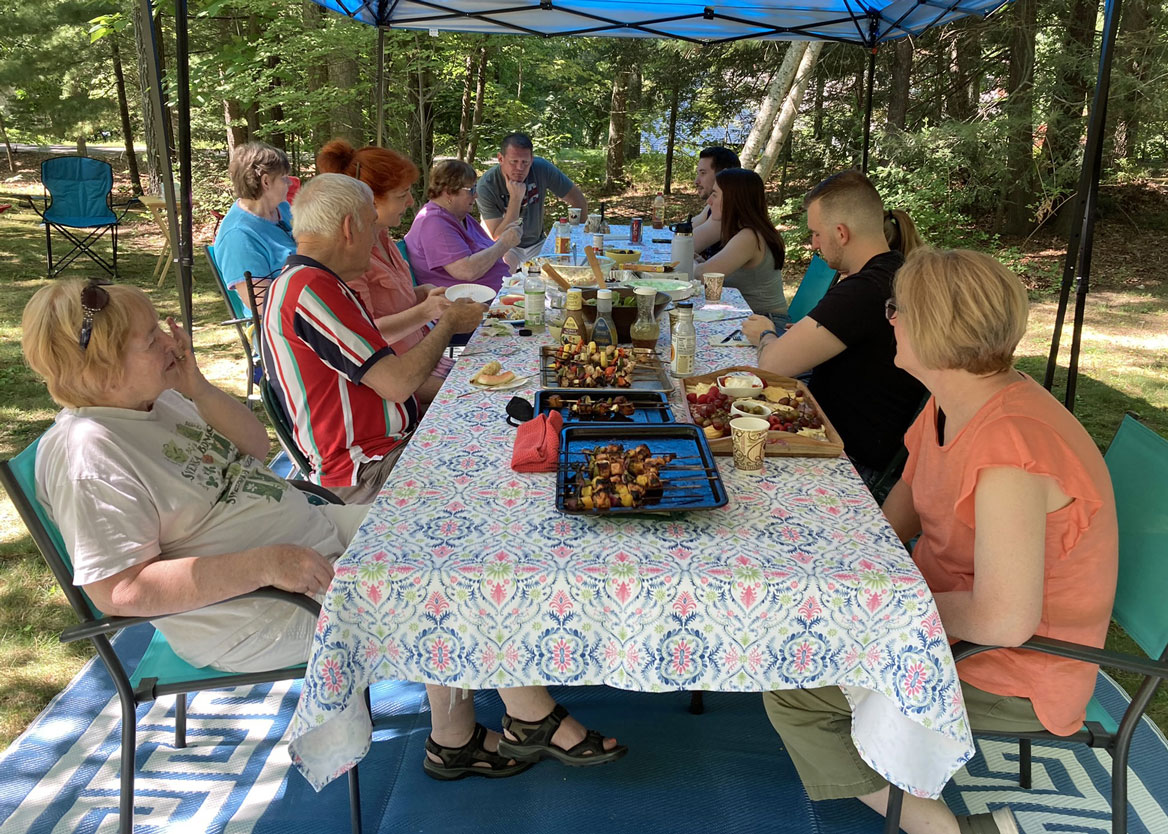 Backyard dining under the tents at Mark's
Mark is back at Lego full time and our out of state relatives took advantage of him for tours with visits by Jan's cousin Peter and sons from South Jersey in August and Anne and Steve Shay from North Carolina in Sept. Nice that people are travelling again.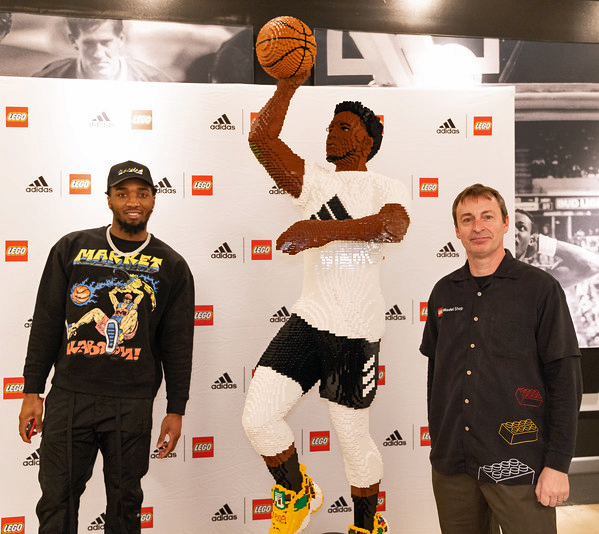 Presenting Donavan Mitchell his Lego model
Mark continues to get interesting assignments. After designing and building life size models of two San Francisco Giant baseball players a couple of years ago he did one this year of Utah Jazz star Donovan Mitchell sponsored by Adidas. For a video of Mark explaining how he designs and builds this type of model click here.
Each Christmas Deb and Mark's card chronicles their year and is on our website to enjoy.
This Summer I helped organize our 65th Newton High School reunion and spent a week in August back home in New Jersey. The first trip back since our 60th reunion. We are 83 years old and of a class of about 180 only 25-30 made the reunion, which we kept as simple as possible. I've hosted the Class of '57 website for the past 25 years and posted photos of the event at newtonhigh57.org.
While I was in New Jersey I visited cemeteries and three area historical societies and museums where I did family research and met with local historians. The Branchville Historical Society is in my old four room elementary school. Gave them, from Anne Shay and myself, the very first share of Selected Risks stock bought by my grandfather, who was treasurer of the company at the time.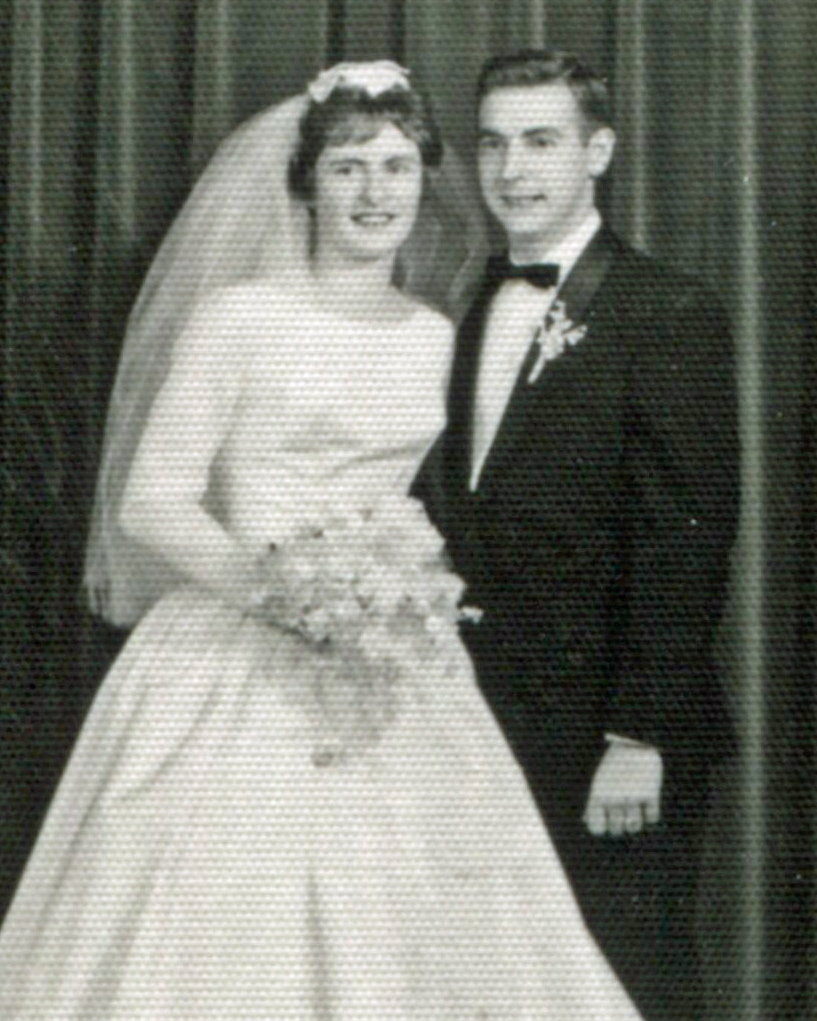 The happy couple in 1962
Back home we are continuing to host major holiday dinners until Donna moves into her new house. We had 14 for Thanksgiving, which is the whole family plus boyfriends. Thankfully everyone pitched in and helped.
Thanksgiving day was also our 60th wedding anniversary so the family got a twofer. In 1962 we were married in Paterson, NJ and honeymooned in Bermuda. So long ago, so very young.
Jan had a mixed year. She is, of course, delighted to have all the family nearby. In August she had a fall that wrenched her back which has been very slow to heal and limits her movements. In October, even with all the shots and boosters, she got Covid. It wasn't too bad, like a nasty cold. I was fortunate and avoided it.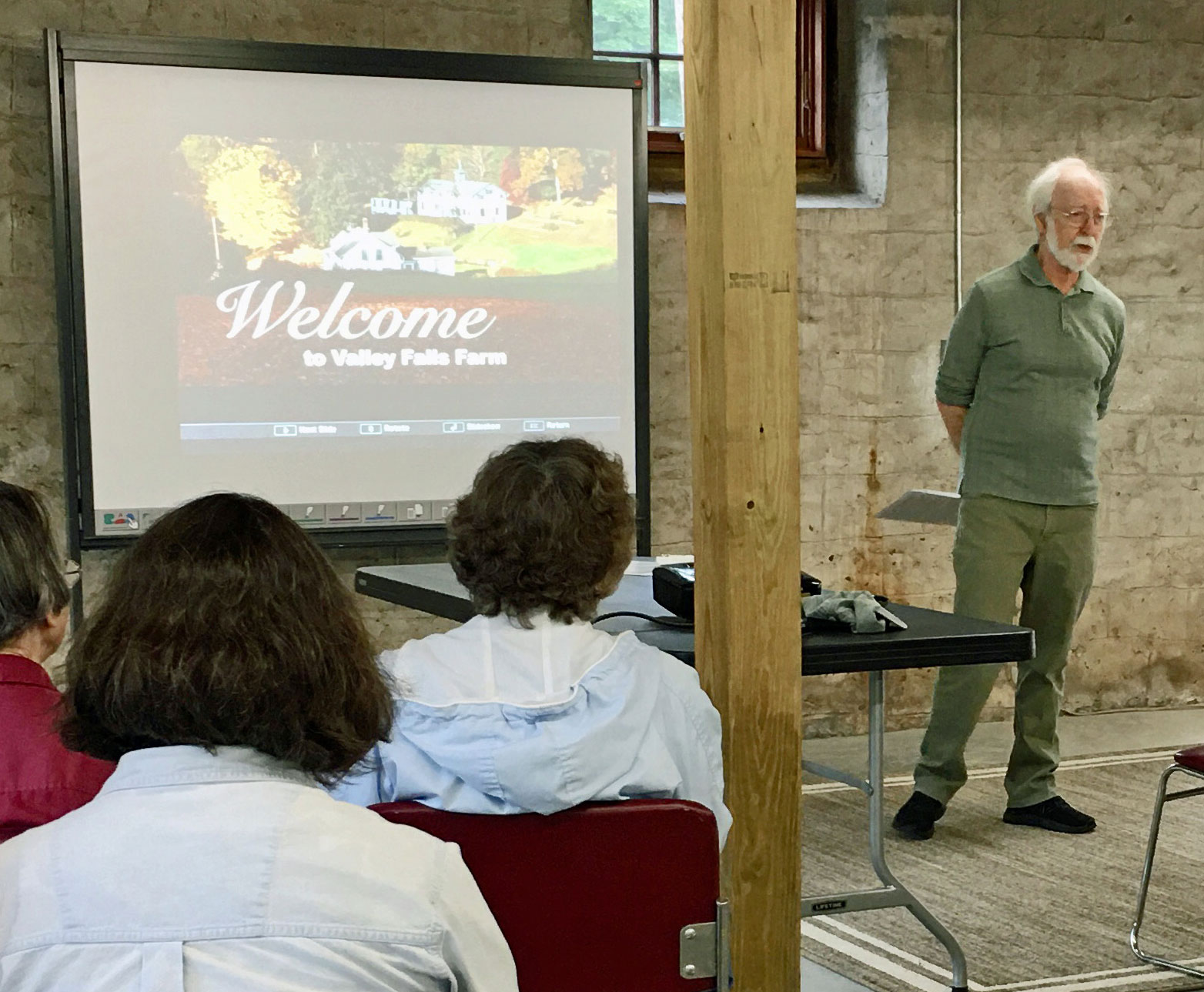 Channeling con artist Hans Munchow
at Valley Falls farm
A highlight for her was attending a birthday concert at the Mohegan Sun by her favorite boy band - Il Volo. Mark and Debbie took her and she loved it.
With Covid being ignored our local schedule of events and activities looked like pre-Covid, which kept me busy as I coordinate and publicize many of the local nonprofit organizations.
I've had no problem keeping busy on local and family history leading several walks and doing a talk or two this year. When I can squeeze it in I love to research the lives of people who lived in the 17th and 18th Centuries - the latest is the family of Deacon Azel Roe, an East Windsor international fiction author from the mid 1800's and a very distant relative.
You can reach us at [email protected]. We'd love to hear from you. We hope you and your families were able to visit and stayed healthy this year.
Jon & Jan   
| | | | | | |
| --- | --- | --- | --- | --- | --- |
| | | | | | |
| Adam | Annie | Katie | Donna & Mark | Mark & Debbie | Jon & Jan |